Hart offers our clients convenient double-walled fuel tank rental and sales. We offer the FuelCube, a compact and economical diesel fuel tank, which stays onsite to give regular fuel supply and fleet refueling.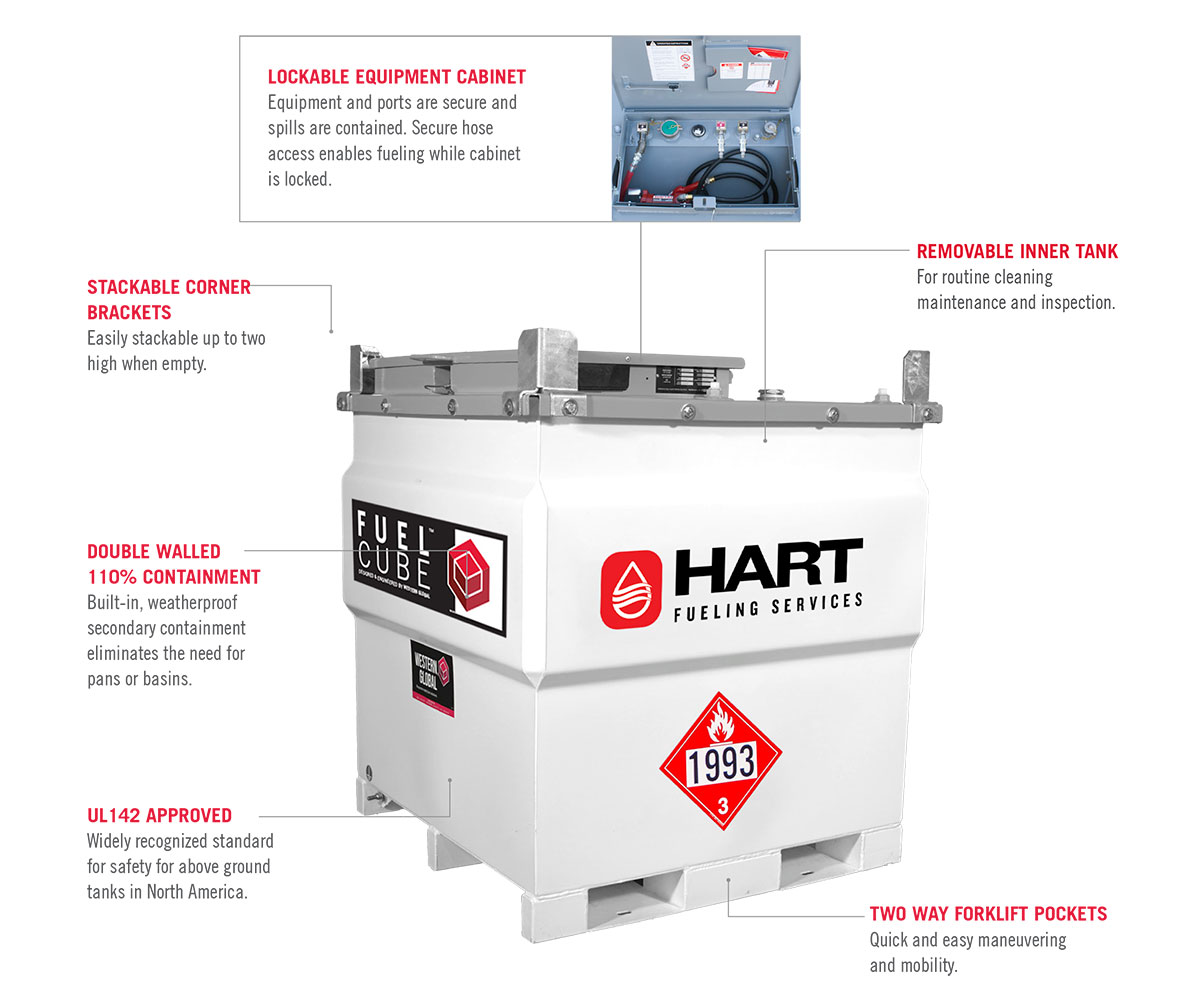 Some features of the FuelCube storage tanks we rent and sell include:
Locking Equipment Cabinet
Removable Inner Tank for Easy Maintenance
Stackable to Maximize Storage
Four-Way Forklift Pockets for Simple Moving (when empty)
Common Diesel Fuel Tank Sizes & Specs
Diesel Fuel Tank Rentals: 250 Gallons, 500 Gallons, 1000 Gallons, 1800/2000 Gallons
Buy Double Walled Fuel Tanks: 250 Gallons, 500 Gallons, 1,000 Gallons, 2,000 Gallons, 8,000 Gallons, 10,000 Gallons, 12,000 Gallons
*We can provide tanks up to 20,000 Gallons
Models and
Capacities
FCP250
FCP500
FCP1000
FCP1800
Capacity
243 GALLONS
528 GALLONS
1016 GALLONS
1862 GALLONS
Dimensions(IN /LXWXH)
45 X 45 X 51
87 X 45 X 51
91 X 87 X 47
115 X 86 X 46
Weight (LBS)
926 EMPTY
3956 FULL
1512 EMPTY
5922 FULL
2760 EMPTY
11239 FULL
4372 EMPTY
19134 FULL
Fuel Tank Models

FuelCube
The FuelCube is a compact and economic stationary fuel tank designed for onsite fuel supply and fleet refueling. The FuelCube includes features such as an integral, lockable equipment cabinet for security and forklift pockets for easy mobility when empty.
---

TransCube Global
The TransCube Global is a transportable, environmentally friendly double-walled fuel storage tank, that offers an efficient solution for on-site fueling and auxiliary supply. With its fully transportable design and ability to fuel multiple pieces of equipment simultaneously, the TransCube will save you time and double or triple the run times of your equipment.
---
Fuel Trailers
Hart is proud to partner with Thunder Creek Equipment to bring you the best in towable fuel trailer options. As leaders in the fueling industry, both Hart and Thunder Creek understand the need for safe and efficient fueling options. Choose from standard mobile fuel trailers, economy fuel trailers, specialized DEF trailers, and more. Thunder Creek's models also come in a range of sizes to suit your needs.
Whatever the job or the need, Hart can help you determine which towable fueling trailer is right for you.
View the level of your tank. Anywhere, anytime.
All Hart Fueling Fuel tanks come equipped with remote monitoring which can be accessed anytime through an app.
Learn More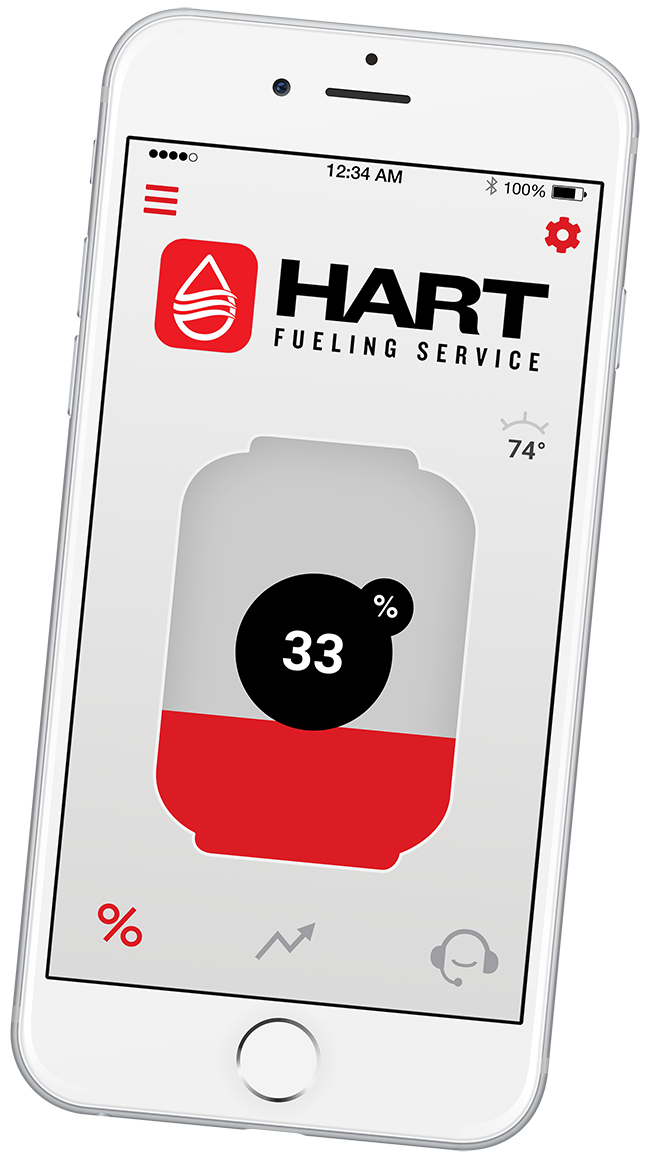 Diesel Fuel Tank Applications
Onsite Fuel Supply – By keeping fuel onsite, you have easy access to fuel for your heavy equipment and vehicles without needing to rely on fuel deliveries.
Fleet Refueling – Having FuelCubes in remote locations can limit downtime when your fleet needs refueling.
Generators and Auxiliary Equipment – The FuelCube connects to diesel-powered equipment while dispensing fuel by the pump at the same time.
Looking for DEF storage options? You can also check out our selection of DEF equipment.
If you need to purchase or rent temporary fuel storage tanks for your own on-demand fuel supply, you can turn to Hart Fueling Services. We offer double-walled tanks available in sizes ranging from 250-12,000 gallons. Our tanks are designed to provide the most efficient and eco-friendly way to store your fuel.
Diesel Fuel Tank Rentals
Once in place, these double-wall fuel storage tanks are simple to connect to your diesel machine so you can fuel up fast. They are designed to make the process as simple as possible. Our fuel tanks also eliminate any worry of spill or contamination. These tanks stay in place and lock, withstanding weather as well as uneven ground. When choosing Hart to supply your fuel tanks, you also benefit from excellent customer service and prompt delivery.
Remote Fuel Tank Monitoring Systems
Remote fuel tank monitoring is the ability to manage and monitor your above-ground fuel tanks – whether diesel, DEF, or gasoline – from your wireless device. Depending on the specifications of your fuel tank monitor, you can select reports to be sent directly to you every hour, every two hours, or as often as needed.
---