Companies that need to store their diesel for any length of time need to consider fuel storage tanks. Fuel storage tanks keep the diesel safe from contamination. Low quality diesel affects engine performance by reducing fuel economy, increasing maintenance. This all leads to more downtime. Incorrect storage methods are the usual cause of poor fuel quality.
While you can store small amounts of diesel fuel in portable 5 gallon gas cans, sizable amounts should sit in large fuel storage containers like 55 gallon drums or single tanks. Fuel storage tanks are made of metal or polyethylene and can be above ground or underground. Choose the best storage container, like single or double walled, for your needs to keep your diesel healthy.
Fuel Storage Tanks for Businesses
Difference between single and double-wall fuel tanks
Fuel tank walls refer to how much protection containers offer the fuel inside. The Environmental Protection Agency (EPA) has rules about the containment of fuel to prevent spillage. Single wall tanks are used when a secondary covering exists, like a structure, and acts as a bonus barrier. If a business already has a second containment, single wall fuel tanks are enough.
Double wall fuel tanks have this second containment, or barrier, built right in. The double wall envelops the inner tank which offers more protection against weather and leaks. Businesses that choose double wall fuel tanks follow the EPA's rules without worrying about secondary containment. These tanks also have monitoring systems that can detect leaks right away.
Make Diesel Fuel Last Longer
Diesel fuel can last longer by protecting the fuel tank from weather and accidents. You can protect it in a building, underground, or under a structure. It's important to prevent water from pooling at the top of the tank because it will rust and invite insects and bacteria to live on the container. Having the fuel tank sheltered also prevents evaporation of the diesel from heat.
You should also keep tabs on the fuel storage tank for water build up from condensation. This will drip on the diesel which will lead to a buildup of bacteria and quality loss. You can drain the excess water off or use biocide additives.
You might be wondering, how long does stored diesel fuel last? Under great conditions, like a constant temperature of 70 degrees, stored diesel fuel can last between 6 months to a year. Treating it with biocides and stabilizers also helps.
Underground Storage Tanks vs. Above Ground Storage Tanks
With the price fluctuations of diesel, a lot of companies are choosing to buy their diesel in bulk. They then store it in fuel storage tanks, either above ground or underground. Depending on your needs, both options have their pros and cons.
Above-ground fuel storage tanks are faster to assemble, easier to repair, mobile, and cost less overall. They're also easier to check for leaks compared to underground tanks. This means any problems are fixed quickly, limiting contamination.
Above-ground storage tanks also come with security concerns. You'll have to install systems like alarms, surveillance, and lighting. Since they're out in the open, these tanks are exposed to all weather conditions, leading to wear and tear.
View the level of your tank. Anywhere, anytime.
All Hart Fueling Fuel tanks come equipped with remote monitoring which can be accessed anytime through an app.
Learn More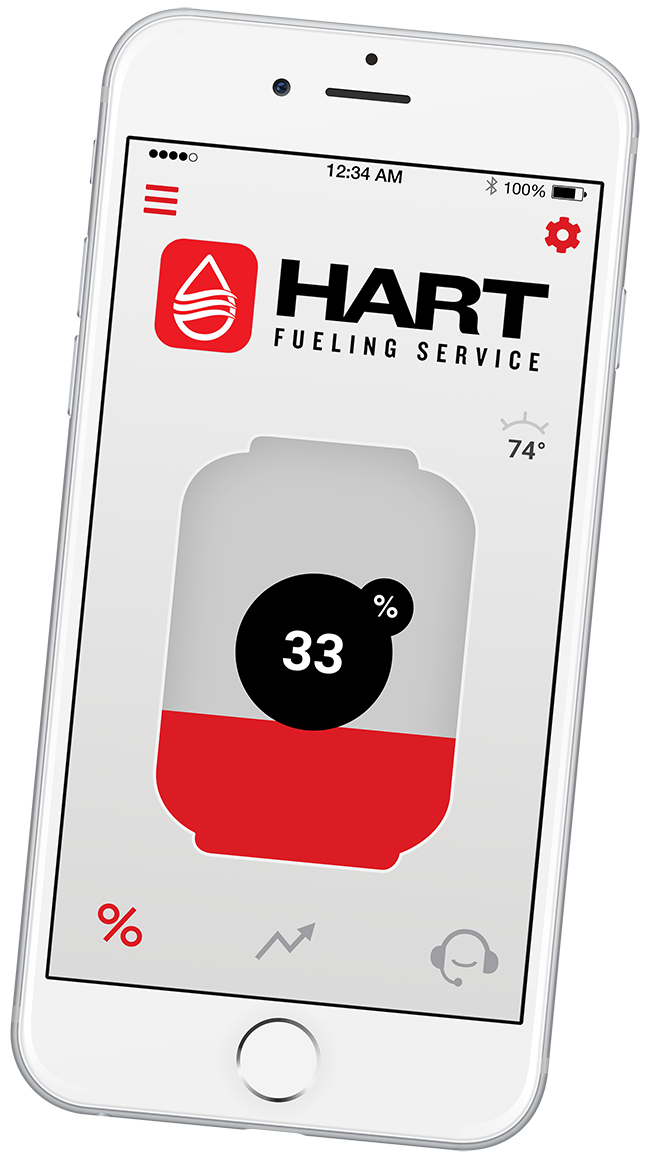 Underground storage tanks cost more than those above ground due to excavation work since they don't take up any space on the ground. However, these costs are worth it when considering the higher level of protection underground tanks provide. Since they're sheltered well, explosions are less likely to happen because of the decreased amount of pressure. Despite this, maintenance is still an essential part of keeping these tanks in great shape.
One of the biggest risks of having an underground tank is the difficulty spotting a leak before too much damage occurs. Freezing pipes during cold weather is another risk factor to consider. Underground piping that freezes can become cracked and broken, leading to costly repairs. Though if designed well, underground storage tanks are sturdy and can last a long time.
Whichever fuel storage tank option you choose, make sure it works with your business's budget, space, and resources. Storage tanks will keep your diesel fuel protected while lengthening its life cycle if properly cared for. 
If you're interested in our fuel tank rentals or diesel delivery service, call us today at 1-844-339-8740.